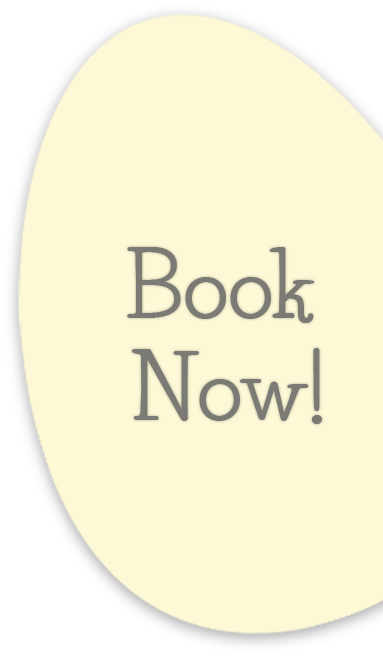 "The Wonderful Story of Wolfeton Manor"
Click here to read our interview with Manager Claire Saxton and to see all the fabulous photos!

Cedar Grange, Merseyside
"What an incredible moment our residents and the children from the local day nursery witnessed in our home, Cedar Grange. Over a couple of days the eggs hatched. Our residents suffer from dementia and/or alzheimer's. This has been the best experience they could of had. They look forward to seeing the ducklings every day. We also have duck therapy days now where they can see and hold them when feeling low. This has lifted the spirits of not ​only the residents but the staff and families too. I can't believe how much positivity and happiness this has brought into residents lives. Now they have a purpose to look forward to and it​'s​ thanks t​o​ you. Well done guys – you're amazing."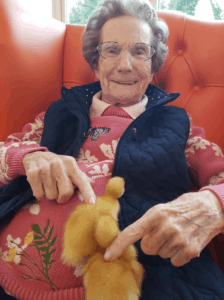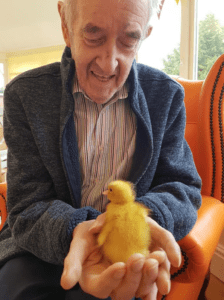 Out on the Isle of Wight…
"I just wanted to message you and the Incredible Eggs team to express a huge thank you from all of the residents and staff at St Vincents. Our duckling experience was incredible and we all thoroughly enjoyed every minute of it. We were so pleased that we managed to hatch all six eggs and to see them develop and grow over the week. Swimming and cuddles time was a particular favourite of our residents. None of our residents had ever seen a bird hatch from an egg and said that it was such an honour to witness and a wonderful event to witness during the final chapter of their lives. I thank you all for making such a wonderful  experience possible. I have attached some photos of our experience. We have so many photos, but I just wanted to share a few as they may help encourage others to book this wonderful experience for their residents. With sincere thanks." – Sharon Atter, Registered Manager,SSAFA, the Armed Forces Charity,St Vincents Care Home, Isle of Wight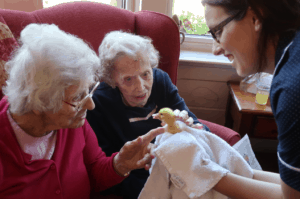 De Lucy House, Diss, Norfolk
"Many thanks for providing duck eggs to De Lucy House care home in Diss, Norfolk. Six ducklings hatched successfully and they provided endless joy to residents and staff at the care home."
Our thanks to Anna and the residents of De Lucy House for sharing these photographs with us.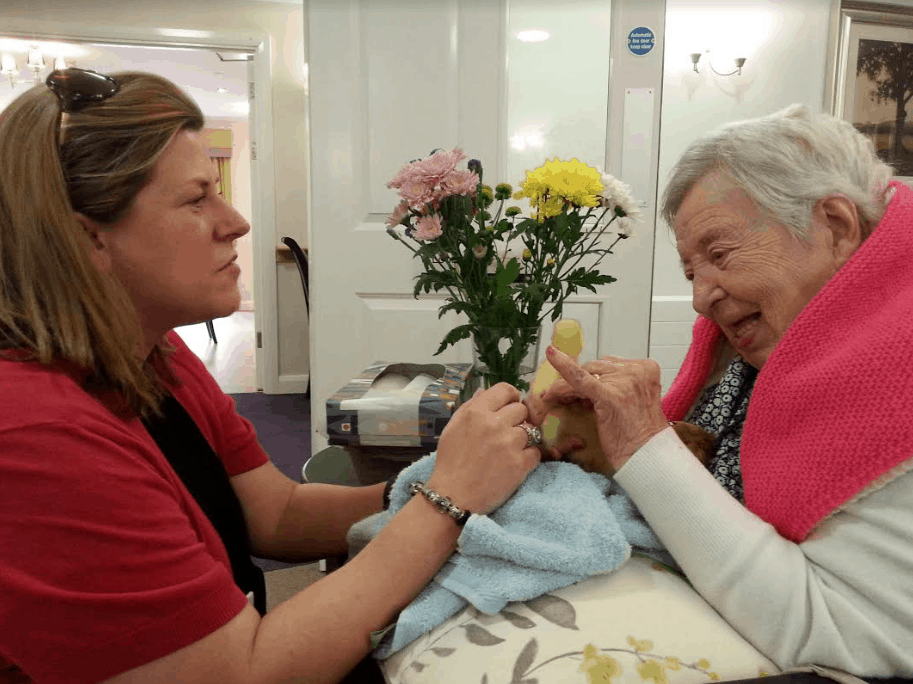 Waypoints Care, Upton, Dorset
"We have had an amazing few days with our Incredible Eggs at Waypoints Care, Upton. They are a nationwide company, taking chicken and duck eggs into schools and care homes, with all the necessary equipment, for a ten day stay. Our eggs came from a farm in Cornwall and were delivered last week. Out of 9 eggs, 6 have hatched into beautiful, fluffy chicks! Our residents have been enthralled by them (not to mention the staff!) and we have watched how hard the chicks work to come out of their eggs and how quickly they learn to feed and water themselves. Their chirping and the warmth you feel when you hold one of them is entrancing and we know that we're going to be very sad when Nick Meagor comes to collect them and take them back to Cornwall!"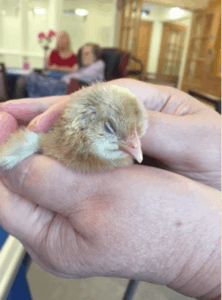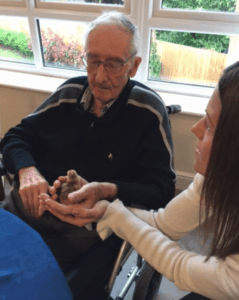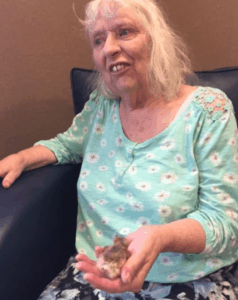 Eggstra special visit for Risby care home residents
Our ducklings were part of pet therapy at the home run by The Partnership in Care, for residents, many of whom are living with dementia.
"The residents absolutely loved them and with many from a rural or farming background, watching the ducklings hatch and then wander around brought back many fond memories." – Noreen Adkin, Manager, Risby Hall, Suffolk.
Read the full article here,as published by Bury Free Press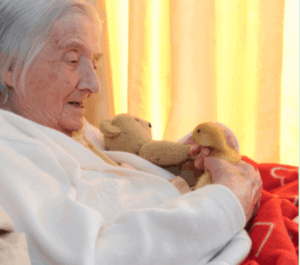 Feathered friends provide 'perfect therapy' for Prince George House residents
The new arrivals form part of a special project provided by Incredible Eggs.
"It boosts their cognitive function, something which degenerates in those living with an illness like dementia. We support their families too – several grandchildren have come in for cuddles with the ducks and it's great to see such a hands-on project boost the residents quality of life in such a way" – Angela Hodge, Dementia Care Specialist for Care UK Suffolk
Read the full article here, published by East Anglian Daily Times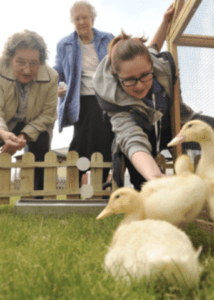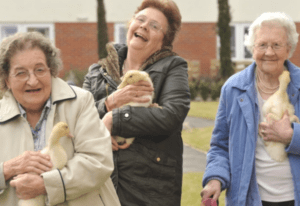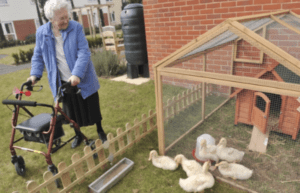 A swimmingly good time was enjoyed by all at Littleport Grange Care Home!
'We so loved having them and felt very privileged to get 7 ducklings from 7 eggs. I am sure we'll be doing this again. Our manager is determined we'll keep them next year! We may be able to have chicks before then, hopefully!'- Lynn Wright, Activities Coordinator, Littleport Grange Care Home, Cambridgeshire.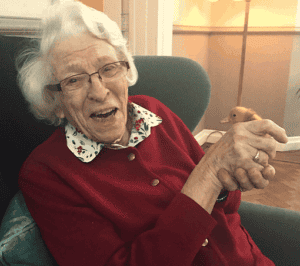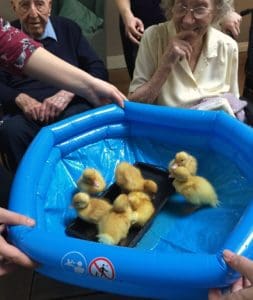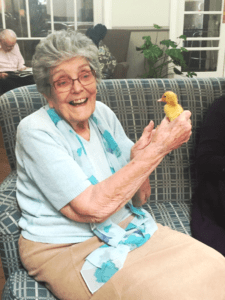 Our thanks to Lynn and the residents of Littleport Grange Care Home for sharing their fabulous photos with us.
"Our residents enjoyed the experience from beginning to end."
"One resident watched the eggs constantly until they were hatched. What I enjoyed was watching the residents that are usually quiet come out of their shell (no pun intended) and the residents that are bedbound were still able to see the ducklings, as I went from room to room and brought some of the ducklings to show them, which they really enjoyed. I would highly recommend other care homes having the duckling hatching experience, especially from 'Incredible eggs'. They are a good company and I thought the price was very reasonable."
Terry Bradley, Activities Coordinator, Parklands Nursing Home, Essex.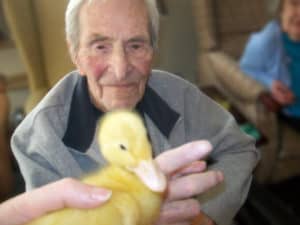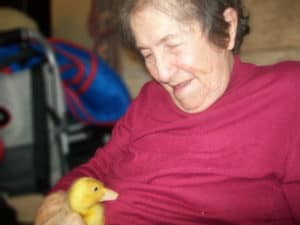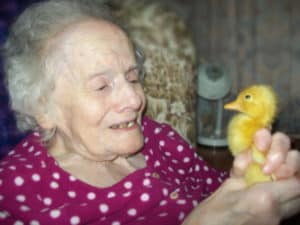 "I was so pleased to see the ducklings in my room as I'm unable to come out of my room at present, they made me happy as they are so fluffy and adorable." – Irean
"They were a joy to hold, and I'm so pleased that I could hold them even though I'm bedbound, I do hope we have them again." – Shirley
"I enjoyed watching the ducklings splash about in a bowl of water, I'm hoping that Parklands have them again next year." – Evelyn
"I really enjoyed stroking the ducklings, I'm usually scared of touching animals as I had a bad incident with a dog when I was younger and have been scared of animals ever since, but the ducklings made me feel a little more confident within myself and I manage to pluck up enough courage to hold them." – Pattie
"I thought the ducklings were fascinating, you don't often get a chance to see them hatching, they were a joy to watch every day and they grow so fast." – Peter 
"I enjoyed watching the ducklings hatch from their eggs and I couldn't believe how fast they grew in a little amount of time, they were so fluffy, and we had a lot of fun holding them, and I enjoyed seeing other residents smile." – Edna
All photographs and testimonials reproduced with the kind permission of the staff and residents of
Parklands Nursing Home, Essex.
Ducklings 'in the pink' at Kents Hill Care Home in Buckinghamshire
Our thanks to the staff and residents for sharing their photographs and newsletter with us.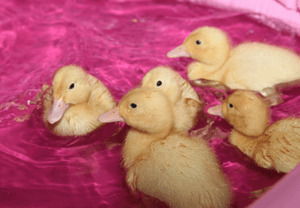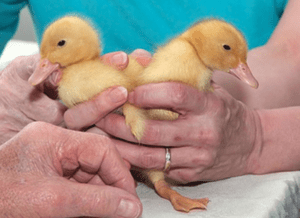 Our ducklings help Harlow care home residents come out of their shell
Incredible Eggs were delighted to supply a duckling hatching kit to the residents of a Harlow care home for people with learning disabilities.
"It was something different for them to do and it gave them a chance to have some first-hand contact with animals, which they loved. The activity not only encouraged residents to take some responsibility with the ducklings but saw more interaction between those involved. The therapeutic value of animals is undeniable." – Simon Oliver-Fitch, Support Worker, Livingstone House, Essex
"I loved having them here; they would sit on my lap and I could stroke them – it's the first time I'd ever seen ducklings up close like this."– Peter Nelson, Resident
Read the full article here, published by 24dash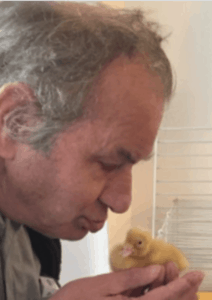 'Care home happy to welcome 5 new furry friends'
"Watching the joy in their faces, first as the ducklings hatched through to watching them day by day grow has been really rewarding. We will definitely have more eggs next year as the adventure has been both therapeutic and fun." – Patricia Waldron, Care Manager, Appletree Court Care Home, London
Read the full article here, published by Times