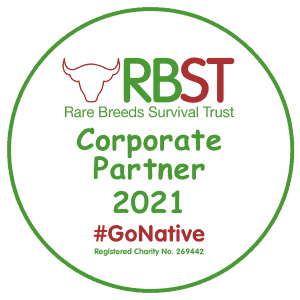 Eggciting news – As well as increasing the numbers of rare breeds and promoting the work of the Rare Breeds Survival Trust, Incredible Eggs are delighted to officially sponsor this invaluable organisation again in 2021!
The Rare Breeds Survival Trust is a conservation charity whose purpose is to secure the continued existence and viability of native farm animals of the United Kingdom. It was founded in 1973 and since then, no UK-native breed has become extinct. Amongst many other things, the RBST maintains a watch list of rare native breeds of cattle, sheep, pigs, horses, goats and poultry.
As small scale poultry breeders, we help preserve 14 of the rare breeds of poultry on the RBST watchlist. These are listed below, with a link to a RBST fact sheet about each one. We include many of these rare breed eggs in our hatching kits alongside other non-rare pure breeds and utility strains. However, this is entirely dependant on who is laying – egg combinations are pot luck and left to mother nature!
The photographs below were all taken at our four branch farms.
Our rare breed chickens: Cream Legbar (below, top left), Orpington (below, top right), Sussex (below, bottom left), Ancona (below, bottom right) and Indian Game.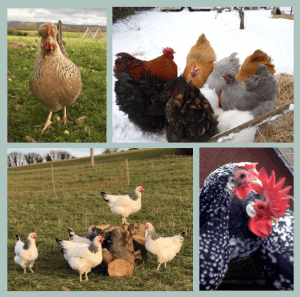 Our rare breed ducks: Silver Appleyard (below, top left), Black East Indian (below, bottom right), Cayuga, Campbell (below, top right), Welsh Harlequin, Magpie (below, bottom left) and Rouen.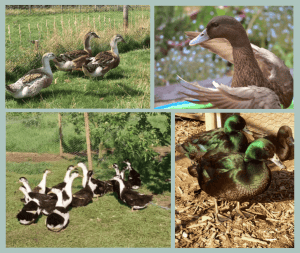 Our rare breed geese: Pilgrim (below, bottom left) and Toulouse (below, bottom right)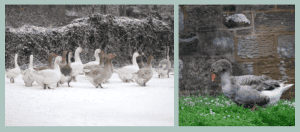 It's thanks to all those who book hatching kits with Incredible Eggs that it's been possible for us to further support the work of this invaluable organisation through sponsorship, so thank you for helping us to help them!