As another busy hatching season draws to a close, we thought we'd share some pics and happenings from our farms. 
Just in case you're missing your birds, below are some of our favourite photos of the chicks and ducklings now back on our four small, family run farms where they are growing up. Some will stay with us and some will be going to new homes with other poultry enthusiasts, hobbyists and smallholders.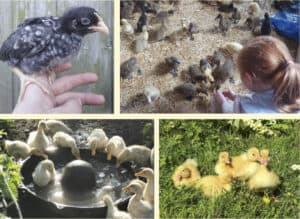 And here are some of the older birds, which lay the eggs!
Our hatching season will soon be over and we will be delivering kits until the end of July. Timetables for 2023 bookings will open again in September 2022, so please do come back then to secure your slot.
In other news…
Our farm in Norfolk – a queen expands her empire
Vicky has been a keen bee-keeper for many years and keeps several hives. She recently discovered one of her hives had sadly lost its queen and the bees were very distressed. Vicky heroically risked incurring the wrath of many angry bees to successfully combine two hives and one queen now reigns supreme. Peace has been restored and contented buzzing fills the air once again. Phew! And bravo Vicky!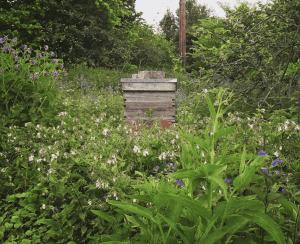 There are over 250 species of bees in the UK, and the honey bee is just one of them. It's almost impossible to overstate the importance of pollinators in our ecosystem – the survival of plants depend on it – and the honey bee accounts for 80% of all pollination done by insects. Unfortunately the numbers of many of our bee species are in decline, and some have even become extinct. There are several possible reasons for this, but it's an astonishing fact that in England over 97% of all flower-rich grasslands have been lost since the 1930s – that's three million hectares, or an area one and a half times the size of Wales.
You can find out how to make your garden bee-friendly by visiting 'Gardening for Bees', published by Friends of the Earth.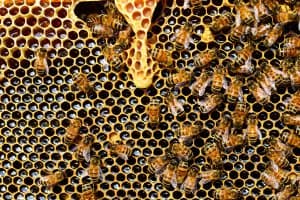 Our farm in Kent – a new friend for rescue goat Quaver
Quaver the Pygmy goat was in need of rescue and given a lovely new home on the farm, but he was lonely for company of his own kind. There was only one thing to do and a new Pygmy called Frazzle has now joined him. Despite some initial head-butting, the two have become firm friends and are settling down to a happy goaty life together.
In 2019 the conservation status of the Pygmy was listed as "at risk" by the FAO. Find out more about this miniature goat breed from the British Goat Society.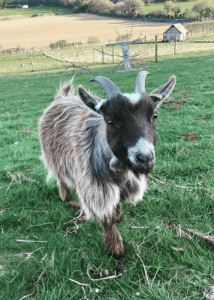 Our farm in County Durham – repairing storm damage
You may remember some of the storms earlier this year were particularly savage in the North of England and Scotland. Michaels farm suffered quite a lot of damage, including almost losing this rather brightly coloured roof – which admittedly wouldn't have been too hard to find! We're happy to report that the rather brightly coloured roof is now safely back where it belongs.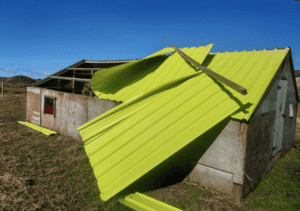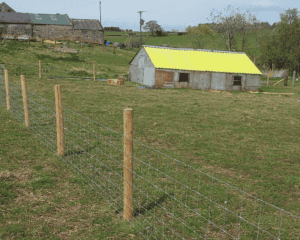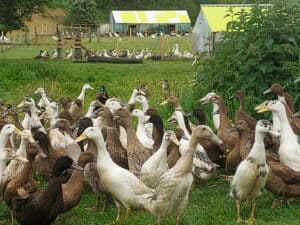 Michael has since moved on to renovating a barn, which is going to be a super-duper new chick nursery! Watch this space!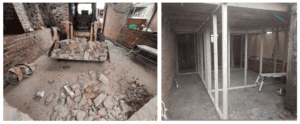 Our farm in Cornwall – a successful harvest
A 40 acre crop of Miscanthas has been successfully harvested. Miscanthas is a giant grass which grows to heights of about 12ft. Although not native to this country, it is a non-invasive specie known for it's rapid CO2 absorption, and is a now a favourite choice for biofuel – a renewable substitute for fossil fuel. It enhances biodiversity and soil health and is also home to an abundance of wildlife, such as the many deer which are often seen peeping out. It also doesn't require any fertiliser or pesticides.
Rather than creating one enormous field, the crop is spread over 6 small adjoining fields, with wide grass margins and mature hedgerows separating each. This is an environmentally friendly method of farming, which provides a network of wildlife corridors.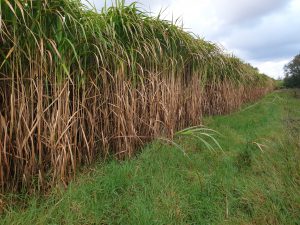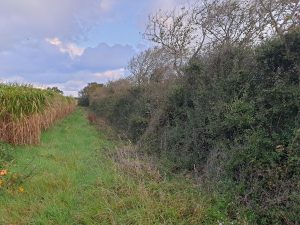 We wish you all a wonderful, long, sunny summer!
With a wave, cluck, quack, bleat and buzz from everyone here at Incredible Eggs 🙂