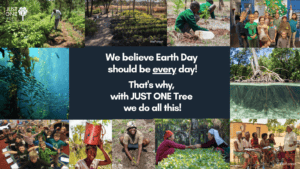 This Earth Day we celebrated our commitment to the planet. We couldn't be prouder to be working with JUST ONE Tree, because together we're not only planting trees, but we're:
growing forests
creating homes for both terrestrial and marine life
removing carbon from the air and our oceans
providing fair and long-term incomes to local communities
helping the next generations learn the importance of protecting our natural world
making a greener future for us all.
Our Incredible Eggs forest of 300 trees is already providing homes for wildlife, removing carbon dioxide from the air and providing fair and stable incomes to those who have planted and are now caring for our trees. It's exciting to think that somewhere in the world our little Incredible Eggs rainforest is growing ever bigger! It's estimated that these 300 trees alone will remove an incredible 6 tonnes of CO2 from the atmosphere every year once mature – WOW!

Dates for your diary: The next JUST ONE Tree Day is October 14th (September 30th for Scottish Schools) and we would love as many schools to sign up as possible. So far over 500 schools have taken part, involving over 200,000 children. Find out more here.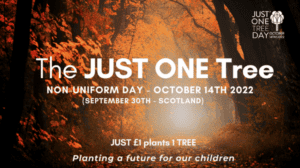 A big THANK YOU to those who book with Incredible Eggs. It's because of you that it's possible for us to support the work of these organisations through sponsorship, so thank you for helping us to help them.