With winter drawing to a close, we look back on how it was for two of our farms.
One is in North Yorkshire, located on the edge of the beautiful North York Moors: the other is situated close to the spectacular Cornish coastline. Of our four small family-run farms, these two are the furthest apart, with approximately 400 miles between them.
Our branch farm in North Yorkshire covers settings in Scotland, the North and the Midlands. The location of this farm means it has to cope with some of the harshest weather England has to offer. Harsh weather calls for some pretty serious measures when it comes to caring for livestock. Planning for the winter began early, with some huge containers arriving as a precautionary measure before the seasons changed. When the worst of the winter weather hit, the birds were protected from the driving wind and snow in spacious, clean, well-ventilated accommodation.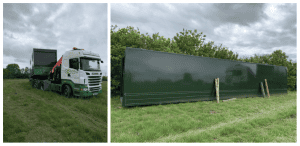 One of the containers arriving last year.

Some rare breed Toulouse geese later enjoying some respite when the blizzards finally hit!
Our South West branch is located at the other end of the country in Cornwall, where the weather conditions are generally not as harsh as those in North Yorkshire. However, some of our birds were also treated to some fabulous new accommodation, in keeping with the milder climate to be found here. Here they are in early December (before current DEFRA regulations), enjoying a bright day outside their lovely new coop.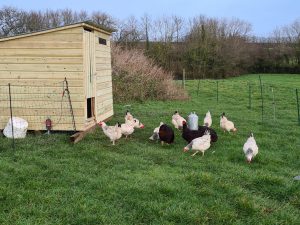 Incidentally, a new arrival has brought much excitement here – a Buff Sussex cockerel has just joined the rare breed Buff Sussex hens and what a handsome chap he is! May they go forth and multiply now spring is springing!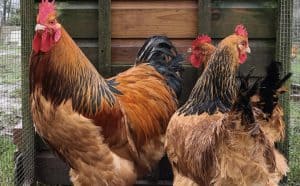 Our four farms may face different challenges, but all share much in common – a passionate commitment to small-scale, non-intensive traditional farming, with high-welfare at the heart of everything we do.
All of us here at Incredible Eggs (including the birds!) are now very much looking forward to the start of spring. Hatching season has begun and we are delighted to be taking hatching kit bookings for 2021. We look forward to seeing all our wonderful customers and supporters again, both old and new. But before winter becomes a distant memory, we'd like to share a final snowy reminder of what was – a short video taken at dawn on our North Yorkshire farm – just beautiful!