One of the wonderful things we are privileged to see at Incredible Eggs is the fantastic work our kits inspire in schools and nurseries. It really is a joy to walk into a classroom at collection time and be greeted by impressive displays showcasing what's been happening. The classroom wall is also a great place to embed learning – and brings the learning environment to life.
Often unseen by outsiders, usually brilliant and always only temporary, we thought it was about time a light was shone on these fabulous, fleeting and unique creations – and to let you know what we've put in place to help you build your own wall of wonder!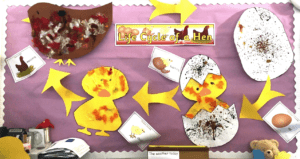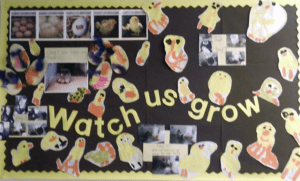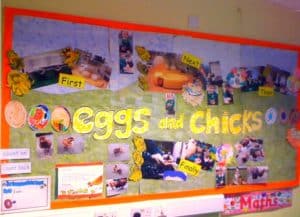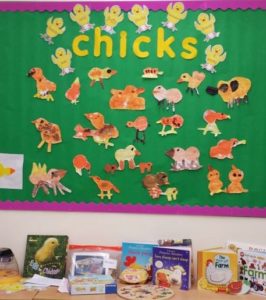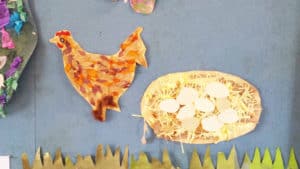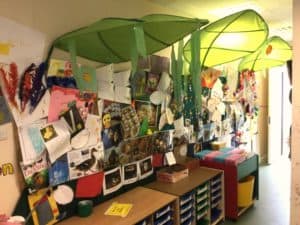 Included with your hatching kit is a password to access our online downloadable educational resources. Here you will find project ideas for creating whole class displays.
You'll also find ready-made educational packs to download, print and put up, such as our "Where do the baby birds go afterwards?" This wall display will reassure all involved that your hatching project was sourced both ethically and responsibly and hopefully make those goodbyes a little less sad. It's a beautiful, fascinating, easy-to-assemble display and a geography lesson all rolled into one, which also provides an insight into traditional, small-scale approaches to farming. Below is an example of how a school has used this resource to create a display. We're also loving that custom built 'duckling playground' underneath!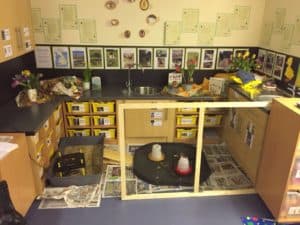 Also included for you to download and print is our fabulous poster collection. These posters were designed by children's illustrator Paul Winward, working in collaboration with educational professionals and are exclusive to Incredible Eggs. They provide instant colour, beauty and offer differentiated learning to suit the abilities of every pupil in your class. There are five posters in total, which range in suitability from EYFS to key stage 2:

Once you have your password, please head over to https://www.incredibleeggs.co.uk/resources and have a good look around. We hope you find we've done a lot of the work for you, so you too have some time to join your students and fully enjoy the hatching experience itself!
We hope this blog has inspired you to create something wonderful in your classroom! And if you do and would be happy to share on our website, please email a pic to headoffice@incredibleeggs.co.uk. We'd be absolutely delighted to include it in our gallery, where it will continue to serve as an inspiration to others long after it has been dismantled!