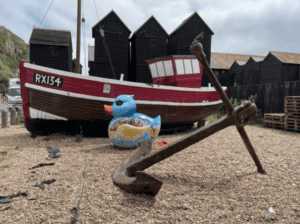 Something delightfully ducky will be happening on the streets of Hastings and Rother in 2022 – a mass participation, public art event that will be the talk of the summer! And Incredible Eggs is delighted to be supplying fabulous ducky educational resources to all participating schools and community groups!
'Follow That Duck!' is being organised by Wild at Art and will consist of 30 large Rubber Ducks designed and painted by a host of talented artists – and smaller Rubber Duckling sculptures, decorated by local schools and community groups. These will form an exciting summer art trail throughout the area, adding fun and colour to the beautiful local scenery!
This quacking event is raising vital funds for St Michael's Hospice. Supporting approximately 1,700 people per year, the hospice focuses on enabling people with advanced, serious, life-limiting illness to live the remainder of their lives as fully as possible. The Hospice needs to raise over £14,400 per day from voluntary sources.
All schools, nurseries, colleges, pupil referral units and community groups in Hastings and Rother are invited to adopt a blank Rubber Duckling 3D sculpture to design and decorate. The decorated Rubber Ducklings will be an integral part of the Follow that Duck trail for 10 weeks, before returning to their place of decoration to nest permanently.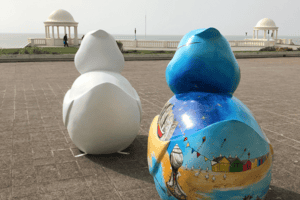 Shake a tail feather if your setting is based in Hastings and Rother and would like to take part! The deadline for schools and community groups to sign up is the 30th of November 2021. Click here to find out more:  https://followthatduck.co.uk