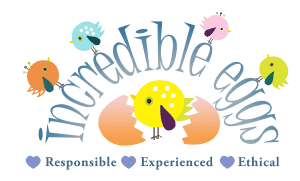 Working alongside specialist breeders, farmers and landowners, Incredible Eggs and some wonderful schools are increasing the numbers of Grey Partridges in the wild. This once common native bird is now on the Birds of Conservation Concern 'red list'. Red is the highest conservation priority, with species needing urgent action.
Many schools took part in 'Operation Grey Partridge' this summer, with students participating in a live wildlife conservation project – from right there in the classroom! The project is fully professionally resourced, enabling children to gain a very real and meaningful understanding of the impact humans have on the environment and the sometimes negative consequences of this. As well as being highly educational, the project aims to empower children to help put past mistakes right.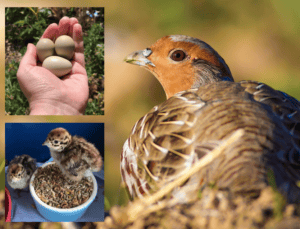 After the children had hatched and cared for the partridge chicks, the birds were collected and grown on at our branch farms – and you can see from our videos below just how much they've grown over the last few months!
They were recently moved to their release sites and given time to adapt to their new surroundings. They also learnt where a feeding station is located in case they should need it during their first winter. At last the big moment came to release them. Once the door of their pen is gently opened, they creep out, quietly take a look around…and then their wild instincts kick in and up and away they very noisily go!
Watching them take to the skies for the very first time is always a thrilling moment and one which we excitedly do our best to capture to share with our participating schools! The birds usually return to the feeding station in the early morning and late evening to begin with, until they become fully self-sufficient on the insects and seeds they find all around them.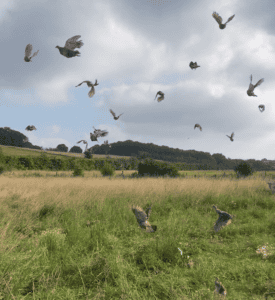 This year our London and South East branches made two releases:
Site Number One: 'Hearts Delight' – 60 acres of fields and woodland, very aptly named and located deep in the countryside of Kent. The fields are largely used to grow wildflowers and the seeds are harvested as part of a biodiversity project. The field where the partridges were released has long grass, a very high abundance of insects and is surrounded by thick hedgerows.
Site Number Two:  On the branch farm, also in Kent – 16 acres of field and woodland surrounded by hedgerows.
This year a pair from last years hatch have been sighted – and they have successfully raised about 15 partridge chicks to maturity, which is absolutely fantastic news!