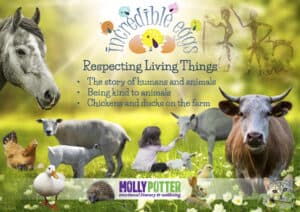 We're delighted to have been working once again with best-selling children's and teacher's author Molly Potter! The result is another exciting, first-class and extensive downloadable educational resource pack to accompany our hatching kits – 'Respecting Living Things'.
These resources provide a sensible and sensitively presented perspective to primary school/home learning projects on animals and/or farming. As well as the obvious links to science, there are additional cross-curricular links to history and PSHE, which provide context and consider ethics. This helps children to develop a balanced, well-rounded understanding of why we need animals, as well as the necessary empathy and respect required to best meet our responsibilities to them.
So, what's included? Well, quite a lot!

Human relationships with animals throughout pre-history
The domestication of animals and the important reasons for this
The differences between wild animals and domesticated animals
How domestication changes animals and therefore changes their needs
Different times, requirements, challenges and practices.

Identifying the needs of different animals
Considering the best ways to give them a good, happy life.

What is a farm?
Why chickens and ducks are farmed
The needs of chickens and ducks
Examples from our own small farms of high-welfare and best-practice farming methods.

Time to get hands-on, dive in and fully explore all of the areas above in brilliant, much-loved Molly Potter style! This fabulous, comprehensive activity pack has not been aimed at any particular age group, as teachers can pick and choose/adjust the activities to suit the year group they teach. There's a wide variety of resourced activities – something for everyone!
Just a few examples:
Travel through time and step into the shoes (or bare feet) of a Stone Age hunter-gatherer, learn about their hunting methods and try your hand at making some basic tools!
Discover which animals are wild, domesticated…or both?
Do some detective work! Find the wild ancestors of domesticated animals…and see how much they've changed.
Take a wander through history and explore the different ways animals were useful in the past and are still useful now.
Learn what the words 'Barn', 'Free-range' and 'Organic' really mean to the lives of  the chickens who lay our eggs…
Communicate animal-style with actions instead of words through dance and drama!
Find out about the pets other people have at home and what they need to make them happy.
Learn about 'The Five Freedoms', so animals have a good life and a life worth living.
These resources are included in your hatching kit price and now available for you to download. Once your booking has been confirmed and your password issued, head over to our resources page and check them out!
Molly has already produced an exclusive range of science-based resources for Incredible Eggs suitable for EYFS to Key Stage 2. These are also available to download in the 'General Resources' area of this website and you can find out more about them here.
We'd like to say a big thank-you to Molly for creating this fantastic new resource and also to wish her all the best with her latest children's book, published by Bloomsbury and shown below!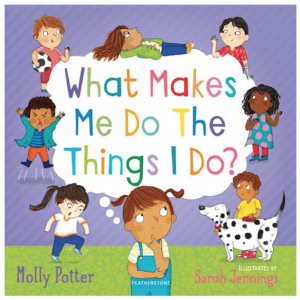 You can view a full list of Molly Potter's teaching resource books listed on Amazon here and visit her website here.